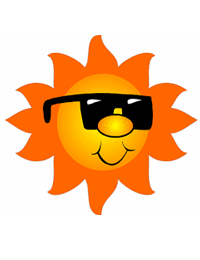 Feeling hot, hot, hot!
if August stays like July, we're in for a scorcher this summer. Whilst we mostly enjoy sunny days, if you're travelling, the hot sun beaming down on you in your vehicle isn't always a pleasure. Doing a few little things in preparation for travelling can often help ease the stress of long hot journeys:
•
Top up fluids, check tyre pressures, fill up with fuel and give your car a wash off to remove dust from windows and lights.
•
Test your vehicle cooling system/ air conditioning
•
Pack water, snacks, emergency kit, essential medications, phone charger and don't forget entertainment for children
•
Plan your route and think about travelling out of busy periods
•
Get a good night's sleep before a long journey and plan for regular breaks to keep you fresh
•
Set up hands-free for your phone or devices so you remain legal and safe while driving
Stay cool and safe.
Ray Hunt
14 July 2022
---

As vehicles become more complex, with new systems to increase safety and driver convenience, they also become more challenging to maintain and repair.
At R Hunt 4X4 we use a range of diagnostic tools including Opus IVS/ Autologic to diagnose, progreamme and carry out live repairs.
We are also fortunate to have trained and experienced technicians on hand to talk you through the faults and complete the repairs.
Our range of diagnostic tools means we are able to work on almost all makes of vehicle
For further details,
contact us
or give Ray and team a call.
14th January 2022
---